Canada
Boating
Laws & Regulations
Transport Canada–Approved Boater Safety Course for the Pleasure Craft Operator Card. BOATERexam.com® is a delegated provider for Transport Canada.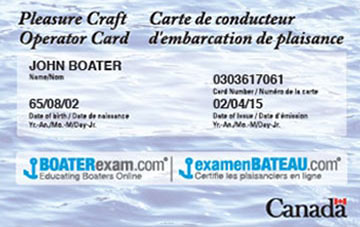 Approved by
Transport Canada

Accepted in all provinces!
Get your official
Canada Boating License
Canada Boating Regulations and Laws
The PCOC is proof that a boater has taken and passed an approved boater education course, and can have benefits such as savings on marine insurance. Many boating fatalities occur because boaters aren't educated about boating safety. Transport Canada believes that an educated boater is a safe boater.
Age restrictions
The table summarizes how horsepower restrictions apply:
| Age | Power Restrictions |
| --- | --- |
| Under 12 years of age, and not directly supervised | Can operate vessels with under 10 hp |
| Between 12 years and under 16 years of age,and not directly supervised | Can operate vessels with under 40 hp |
| Under 16 years of age | Not allowed to operate a PWC |
| 16 years of age and over | No power restrictions |
Alcohol & Boating Under the Influence (BUI)
Under the Criminal Code of Canada, it is an offence to operate a boat if you are impaired by drugs or alcohol. Under the influence is defined as having a blood Alcohol Concentration (BAC) over 80mg or .08%.
Boat passengers may legally consume alcohol if the boat:
permanent cooking facilities,
is equipped with permanent sleeping facilities,
has a permanent toilet and,
the boat is anchored or secured alongside a dock.
Personal Floatation Devices (PFD's aka Life Jackets)
All watercraft are required by Canadian law to have a lifejacket or PFD for each person on board. Always look for lifejackets or PFDs with a label that states it is approved by Transport Canada, Canadian Coast Guard or Fisheries and Oceans Canada
Boating in Canada as a non-resident
Non-residents only need to obtain a Pleasure Craft Operator Card if they are operating their powered boat in Canadian waters for more than 45 consecutive days or if the boat they are operating is registered or licensed in Canada (this includes rented boats). Boater Education Cards or equivalent certifications are recognized in Canada. Proper identification should be kept on board at all times to provide proof of residency.
Personal Watercraft Laws & Regulations
All motorized vessels and PWCs powered by a motor of 10 hp or more are required to have a Pleasure Craft License.
Boat Rental Canada
Currently, a Pleasure Craft Operator Card is not required in order to operate a rented watercraft. Instead, it is sufficient for a renter to complete a rental safety checklist. Take note however that some companies have made it their corporate policy to require renters to have their Pleasure Craft Operator Card.